Account

Quick Links

Become a friend

Registered users

Have an account? Sign in now.
Business partners
Your company can support Macmillan Jersey in many different ways, such as nominating us as your Charity of the Year, employee fundraising, sponsorship, payroll giving or gifts in kind.
Fundraising
Why not sponsor one of our events? There are a number of sponsorship opportunities available, including Rowathon, Get together for Good, Golf Days and Challenge events.
All of our events are widely advertised in the media and within the community which brings a multitude of benefits such as brand awareness, goodwill with your customers and something to make employees feel proud of where they work.
Charity of the Year
Many businesses select a Charity of the Year to direct all of their fundraising efforts towards. This not only helps the charity financially, but also raises important awareness of our service among your employees. We also feel working closely with a charity like Macmillan Jersey can bring a whole host of benefits to your business such as :
Motivating staff and making them proud of where they work
Standing out in the local market
A real understanding if one of your employees should ever be diagnosed
Building brand profile
Education around cancer and risk factors
Payroll giving
If 50 employees gave just £10 per month through payroll giving, Macmillan Jersey would not only receive £5,000 in donations, but we would be able to claim a further 25% back from the States of Jersey, boosting donations by £1,250.

Gifts in Kind
There are so many ways to support us and it isn't always with money. Can you help us raise awareness of our services by co-branding a window or a van? Do you have professional services you can support us with such as IT or financial advice?
We're happy to work with you to identify ways we can work together. We would publicise your generosity and support through our website, PR and communications.
Want to find out more?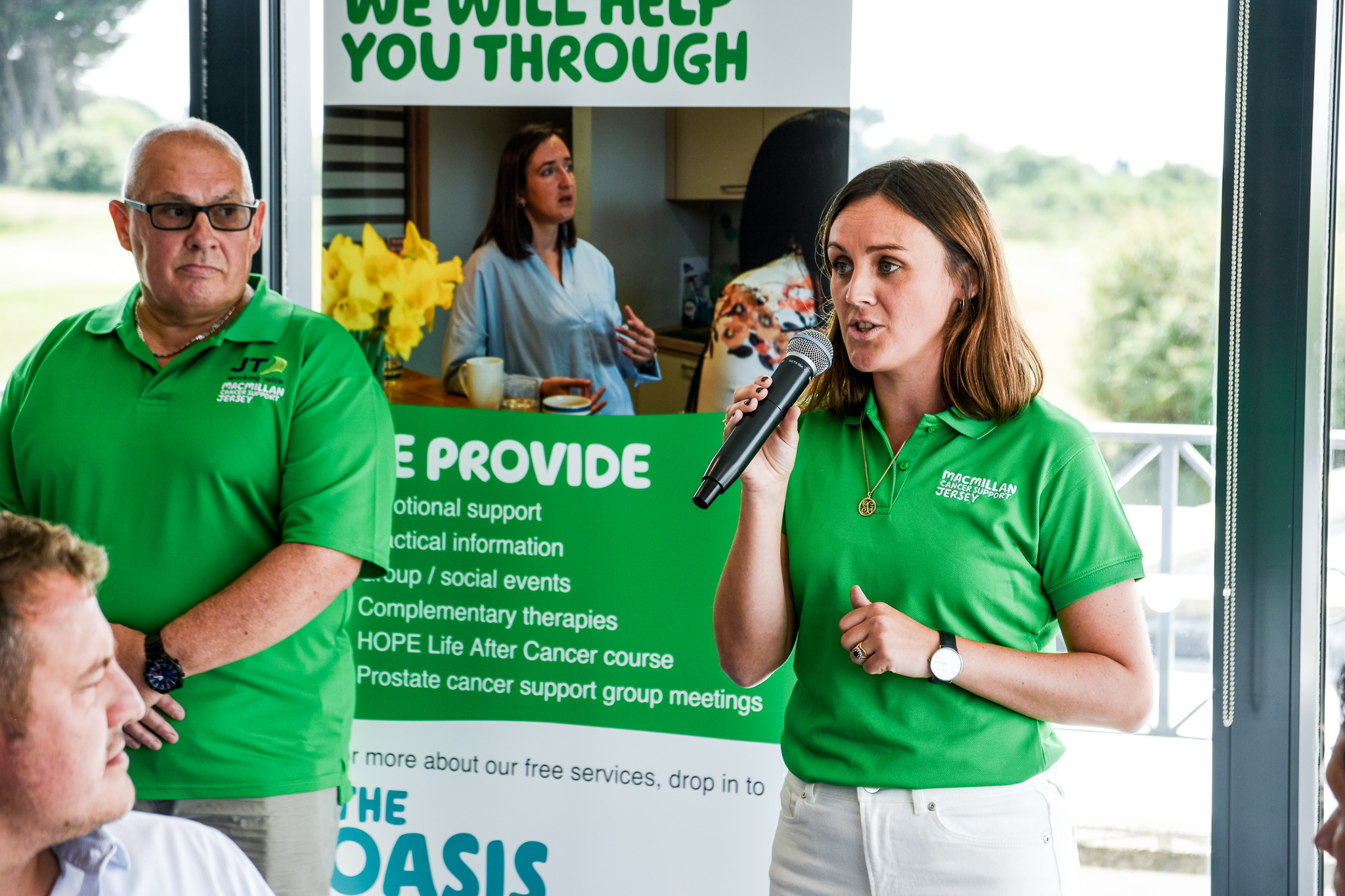 Current statistics predict that 1 in 2 people will hear the words 'you have cancer' in their lifetime, which means it's likely that cancer will have an impact in your workplace. We can come in and provide an awareness presentation to your staff and management teams about Macmillan Jersey, the range of services we offer and provide education and guidance on reducing risks of getting cancer through better life style choices.
If you would like to find out more, please email: fundraising@macmillanjersey.com