Account

Quick Links

Become a friend

Registered users

Have an account? Sign in now.
If you or a loved one is affected by cancer, it's important to make time for yourself. We offer a range of complementary therapies and weekly wellbeing classes.
Complementary therapies
Complementary therapies can play a role in reducing stress as well as helping people feel more positive and in control. They can help you to relax, as well as offering relief from symptoms such as pain, insomnia, nausea and fatigue.
Complementary therapies are offered to the person affected by cancer, family members and friends. It is important that we receive a signed consent form from anyone who is on treatment, and this needs to be signed by a healthcare professional before any treatments can be provided. The referral form is not required for family members and friends.
Complementary therapies are used alongside, or in addition to, conventional medical treatments. They do not claim to treat or cure cancer. People use complementary therapies to boost their physical and emotional health, or to relieve side effects of conventional treatment.
Our free services include aromatherapy massage, reflexology and reiki, we also offer manicures. Every service user is entitled to at least six sessions within any year.

Our therapists have qualified with recognised institutions and are members of professional associations. All have received Macmillan UK training to adapt treatment for people affected by cancer. If you are on active treatment you will need your referral form signed by a healthcare professional.

To find out more about complementary therapies complete the enquiry form below or call us on 01534 498188.

Wellbeing classes at The Oasis
Relaxation:
Do you find it hard to relax?
Are you feeling worried or struggling to sleep?
Macmillan Jersey fund Relaxation classes with Meera, a Consultant in Palliative Medicine and Clinical Hypnotherapist. Weekly guided relaxation classes at The Oasis using hypnotherapy techniques to help you achieve a peaceful equilibrium.
The classes are designed for patients and supporters to access and are usually one hour long.
"I feel more positive about my future and less anxious." Les- service user
To book a taster session, please complete the enquiry form below.

Yoga:
Yoga can help improve flexibility, strength, muscle tone, and balance. These all may be compromised when you undergo surgery or prolonged bed rest due to cancer treatments. Activity levels in general can be changed by a host of cancer symptoms. Whatever your current level of fitness and ability the yoga classes are a great way for beginners to try a form of gentle exercise. The classes are 1 hour long and mats are provided but you are encouraged to bring your own.
To book a taster Yoga session, please complete the enquiry form below

Tai Chi:
Tai Chi combines breathing and slow, fluid movements to help restore balance in the body's energy system. Tai Chi masters teach their students to balance the flow of energy in their bodies to restore health and wellness. For patients with cancer, Tai Chi provides benefits to many of the side effects associated with cancer and cancer treatment, including : calming the mind and emotions; improving balance; reducing muscle and joint pain; promoting clear thinking, increasing flexibility, uplifting the spirits and improving breathing. People with most levels of fitness can practice Tai Chi.
"Tai Chi and its benefits to my health have included the following : Calming – my brain has to focus on what I am doing Exercise – it exercised my entire body gently but effectively Posture – it has helped improve my posture (bad habits develop over time) Enjoyment – the pleasure of gradually improving! Satisfaction – when I am able to complete a set of movements without errors.
I am glad I didn't get discouraged at the start as it takes a little while for the body to get used to doing more than one thing correctly at a time. It's like learning to drive, suddenly it all starts to click into place." - Cathryn
To book a taster Tai Chi session, please complete the enquiry form below
Pilates:
Are you on treatment, recently finished treatment or had surgery?

We are funding Pilates classes with Georgina from Live Life Fitness on Saturdays from 10am to 11am. Pilates is a gentle exercise that helps with strengthening and flexibility and helps reduce anxiety and stress. There is a referral form to complete to join the classes.
Pilates exercises can help to improve balance, maintain muscle strength, ease nausea from the drugs used for treatment, and decrease fatigue.

After treatment you can sometimes get muscle weakness, limited movement, and pain. The physiological benefits that come with doing Pilates include improvement in muscle strength and endurance, an increased range of motion, and the ability to better perform the activities of daily living that are so important to a person's quality of life. Many have reported that they've experienced mood elevation, improved body awareness as well as a renewed focus on their wellness. The classes are 1 hour long and mats are provided but you are encouraged to bring your own.

"I have more energy, confidence, improved movement and enjoyed meeting other cancer patients." Liza- service user
Please complete the enquiry form below to express your interest in attending the next class.

The Oasis is a wonderful light and airy space where we run our wellbeing classes. There is free parking, a lift and easy access.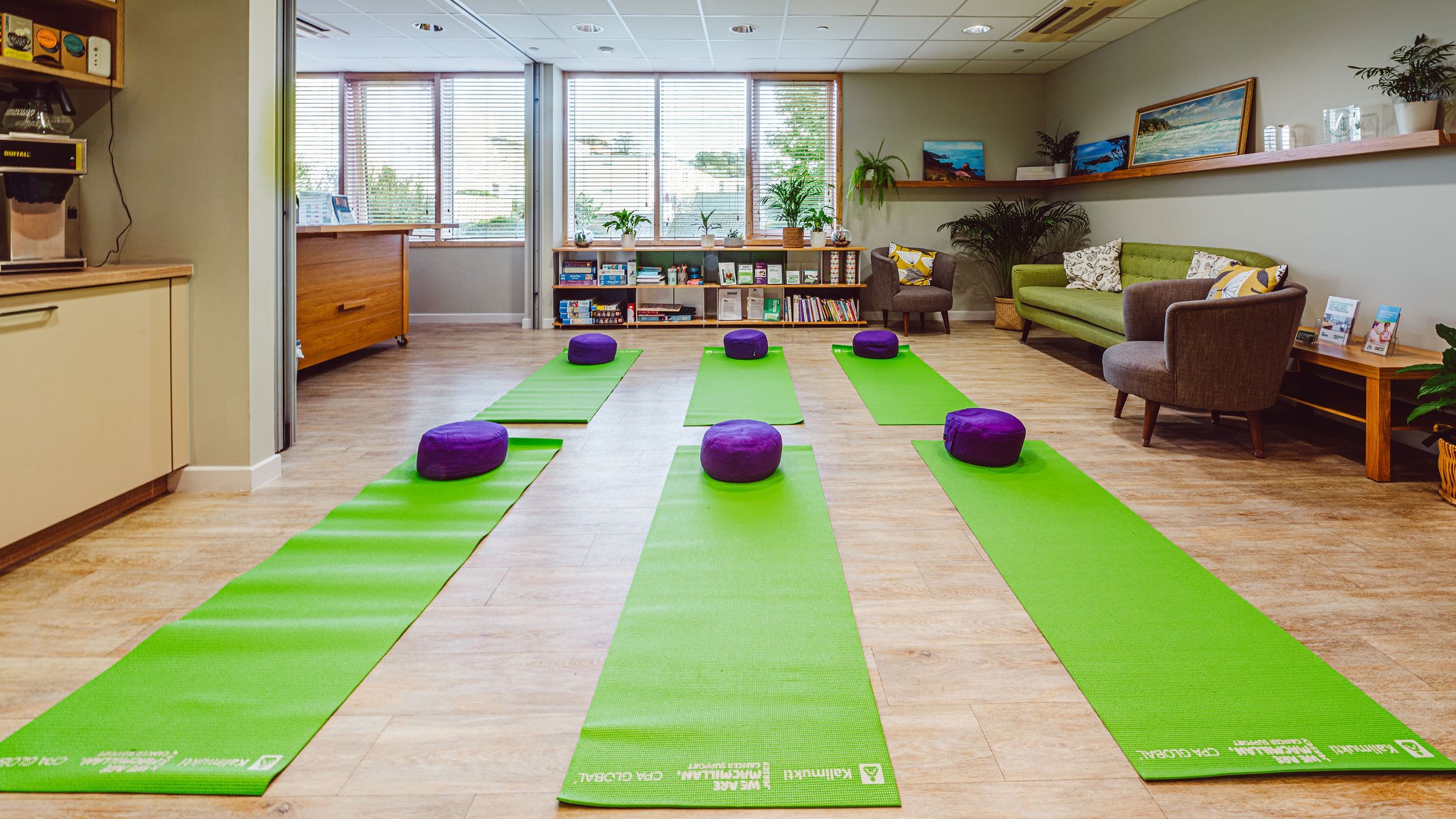 Please call us on 01534 498188 (option1) to get in touch and find out more.